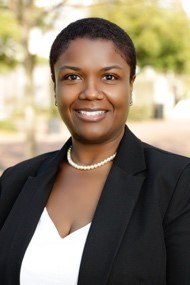 Marie Council is a licensed REALTOR in the Commonwealth of Virginia who begin her real estate career in 2016. She serves as the Listing Manager and Office Administrator for the HOLLOWAY EXPERIENCE. She is known within the organization as "Ms. Everything" because she has worn and continues to wear many hats in different facets of the organization.
Marie takes great pride and joy in meeting the needs of the clients we serve. She is the liaison between clients and our business partners throughout their homebuying and selling journey. Whether this is a client's first home, or one of many, Marie's goal is to make sure the process is seamless from start to finish.
She enjoys listening to music, reading, and every girl's favorite thing….shopping! She has adopted and continues to demonstrate our phrase, "Treating you like family!" with every transaction. That is certainly "Ms. Everything's" promise to you!